Give that Family Member or Friend a Fantastic and Unique Gift. An Oakland Flyer's Gift Certificate.



Give them a gift they will remember!!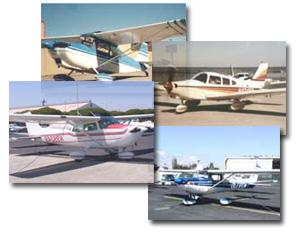 Founded in 1989, Oakland Flyers is an Aircraft Rental and Fligh Training facility. As a flight school, we offer a well maintained fleet of Piper, Cessna, and Super Decathlon aircraft for rent (for rental rates, refer to our "Aircraft Rental" page), as well as a loggable Elite Basic Aviation Training Device (BATD Flight Simulator) . A pilot supplies shop is also part of the operation, offering the books, charts and material necessary for training.


---
As a training facility, we offer professional flight training in accordance with Part 61 of the Federal Aviation Regulations. Our facility is open 7 days a week.

All of our flight instructors are professional independent serivce
providers providing quality training. They schedule for the convenience of the student who they teach on a one-on-one basis.

We are now enjoying a loyal customer base of about 400 members and an excellent reputation around the San Francisco Bay with the aviation authorities and other aviation businesses. Its record of safety shows for the quality of flight instruction provided as well as the maintenance which is a priority in order to meet our safety standards and the enjoyment of our customers.

Duration and Cost of Training
Each student is different and learns at a different pace. The duration of your training will vary with your goals and time available. Four to ten months is an average time investment for earning a private pilot certificate. "Guaranteed packages" typically are marketing ploys that usually bear no resemblance to reality since they are based on an underestimated and unrealstic number of flight hours and ground training needed to meet the certifcation requirements. The national average flight time required is 60-80 hours depending on location. Also,they usually do not include all the associated non-flight training costs involved in the certification preocess. Oakland Flyers includes these assciated costs in its estimated cost, and does not offer "guaranteed packages". We have compiled estimates of training costs that will give you a more realistic idea of the financial commitment necessary for you to reach your goals. These figures will vary from student to student. How quickly it takes a person to absorb the neccessary knowledge and skills determines the costs. Factors such as age, life distractions, study committment, and frequency of lessons affect the time it takes. For more information, refer to our Flight Training page.

About Payment
"Pay as you fly". Oakland Flyers allows each student to determine his or her own methods of payment. This financial flexibility allows students to start immediately and tailor their flying to their finances. School members can realize a 10% saving when depositing US $500 or more in advance, and maintaining a posditive balance in thier account. For further member convenience, we accept both Visa and Mastercard.

Where We Are
Oakland Flyers is located at the Oakland International Airport, on the beautiful San Francisco Bay. The Oakland airport is an FAA tower controlled airfport with all the services of a metropolitan air terminal. Being located in some of the busiest airspace in the U.S., it qualifies our students to fly comfortably anywhere once certificated. The San Francisco bay area and Northern California are beautiful and provide an interesting and varied environment for flight training. Minutes to the West is the stunning Pacific coastline, a little over an hour to the East are the spectacular snow capped Sierra Nevada mountains.


School Dues and Fee Information
School Membership (one time charge)
$ 175.00
School Dues (monthly)
Only on Months Flown
$ 25.00
Ground Instruction (hourly) (ave)
$ 45.00 - $60.00
Flight Instruction (hourly) (ave)
$ 45.00 - $60.00
---
For Information Call 510-568-3317

Or email is at info@oaklandflyers.com

We Are Located at the Oakland Airport
8135 Earhart Rd. Oakland, CA 94621